Key events
The rain is getting noticeable heavier and the players are heading off. Ugh.
3rd over: Sri Lanka 23-0 (Gunaratne 10, Athapaththu 9) Danielle Gibson takes over from the other end and Athapaththu is off the mark with a boundary. Then there's a bit of fortune from the left-hander as she goes for a big swing, a thick edge flying to the third-man boundary for four more.
2nd over: Sri Lanka 12-0 (Athapaththu 0, Gunaratne 9) Now this is exciting – here comes 17-year-old Mahika Gaur. Not an ideal start as a leg-side wide beats Amy Jones' fingertips and Sri Lanka collect three. And then a great riposte: swinging in to the right-hander and an lbw shout, but it's a touch high. Gunaratne then goes for a full-blooded swipe but misses out. Some decent movement for Gaur. Gunaratne tucks into the next delivery, though, driving an overpitched ball through point for four. Knight opts for a review, thinking there's a little tickle off the bat down the leg side on the way to Jones – but no dice.
And the rain begins to fall…
1st over: Sri Lanka 5-0 (Gunaratne 5, Athapaththu 0) Lovely timing from Gunaratne as Cross goes a touch too wide, punching off the backfoot through point for four. This is a comeback of sorts for Cross, her first T20I since December 2019, and she bowls a tighter line to the left-handed Athapaththu.
Kate Cross will open up for England – let's play!
As mentioned earlier, Alice Capsey's rather special.
Sri Lanka need 187 from 17 overs to win
17th over: England 186-4 (Knight 23, Jones 4) Prabodhani's left-arm seam will close out the innings and Knight greets her with a powerful straight drive for four. A wide follows that evades the keeper and runs all the way to the boundary. It's quiet after that, but England have made more than enough noise, going at close to 11 an over.
16th over: England 171-4 (Knight 16, Jones 1) With one over to go, Knight has Amy Jones alongside her for a final smash.
WICKET! Capsey b Athapaththu 51 (England 169-4)
Knight reverse-sweeps Athapaththu past backward point for four but when Capsey tries the same shot, she's bowled. Oh well, that was still some knock from the teenager.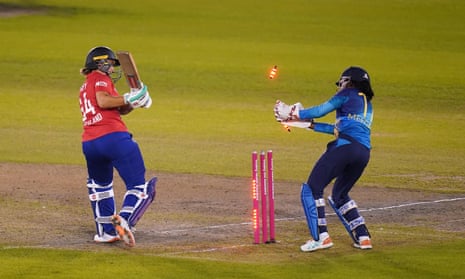 15th over: England 162-3 (Knight 8, Capsey 51) Sri Lanka waste a review before Knight thumps Prabodhani over mid-off for four. She's watched Capsey smack it about, now she wants some of that for herself. Capsey then gets a full toss that she slaps away to the leg side to move to 47. And then another boundary to close the over, taking Capsey to a half-century off just 26 balls. She's a special, special talent.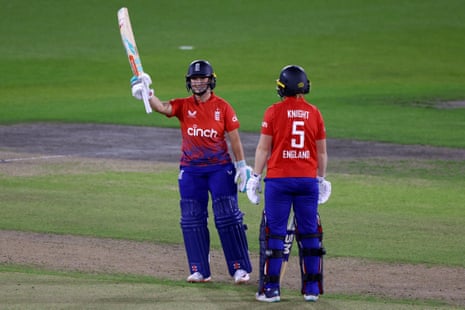 14th over: England 145-3 (Capsey 42, Knight 2) Capsey tries a funky reverse-swat off Ranaweera's left-arm spin but fails to make contact. She makes up for it the very next ball with a dance down the pitch and an almighty smack over deep midwicket for six. And then she repeats the trick, this time staying in her crease for the big ol' slog-sweep. A front-foot no ball is up next before Capsey hits her third six of the over, again over deep midwicket! A full toss follows and Capsey is probably annoyed with herself for not making it four.
13th over: England 123-3 (Capsey 21, Knight 2) The boundaries resume as Capsey slogs Athapaththu to wide long-on for four.
12th over: England 116-3 (Capsey 15, Knight 1) Quality work from Dilhari as Heather Knight joins Capsey out in the middle.
WICKET! Kemp st Sanjeewani b Dilhari 20 (England 113-3)
Dilhari strikes with a smart bit of bowling, launching one flat and wide as Kemp advances out of her crease but loses all shape reaching for the ball. The keeper does the rest as Kemp tumbles onto the ground.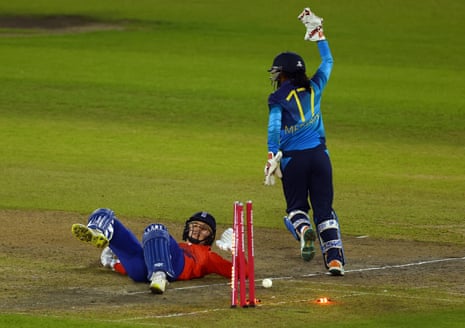 11th over: England 112-2 (Capsey 13, Kemp 20) Kemp goes big, slog-sweeping Kumari for six over midwicket. And then Kemp goes down the pitch… and it's dropped at long-off, with the ball then bobbling away for four. Kemp's fine over continues with a flick behind square on the leg side that runs away for another boundary.
Some numbers for ya:
10th over: England 94-2 (Kemp 3, Capsey 12) Dilhari's very much in this game, darting the ball in and racing across the turf any time she needs to field off her bowling. But Capsey still finds a way to the boundary, cutting through point off the final ball of the over.
9th over: England 86-2 (Capsey 6, Kemp 1) Good fun was that Wyatt innings, but she would've been eyeing up a really big one. Instead, it's now Freya Kemp out there with Capsey. Sri Lanka are beginning to find their way in this game.
WICKET! Wyatt b Ranaweera 48 (England 84-2)
Ranaweera continues and strikes! It's Wyatt who goes now. She backs away to the leg side to try and drive through off – but makes no contact and the ball rattles the stumps.
8th over: England 82-1 (Wyatt 47, Capsey 4) Good over from Dilhari, who's unlucky to concede a boundary from the final ball; Alice Capsey sees flight and goes for the drive outside off, with an outside edge running away for four.
WICKET! Bouchier run out Dilhari 22 (England 77-1)
The bowling changes keep on coming for Sri Lanka, with Kavisha Dilhari coming on to bowl her tweakers. She starts well, bowling with accuracy… and then a quality bit of work in the field! Dilhari fields off her own bowling, picking up at short mid-on before launching a throw at the non-striker's stumps to run out Bouchier. Just the one stump to aim at and she nailed it.
7th over: England 75-0 (Bouchier 21, Wyatt 46) Inoka Ranaweera's left-arm spin enters the game and now it's Bouchier's turn – she gets on one knee and sweeps hard all the way for six. Meanwhile, bit random, but there's a cardboard cutout of Roger Daltrey at Hove that's got Butch chuckling.
6th over: England 66-0 (Bouchier 13, Wyatt 45) Prabodhani's left-arm seam returns and Wyatt's fun continues – she drives hard at a wider one and finds the gap behind point to move to 40. A direct hit at the stumps leads to overthrows to the boundary, making life even tougher for Sri Lanka.
5th over: England 55-0 (Bouchier 11, Wyatt 36) Athapaththu continues and tosses one up wide outside off… and the unstoppable Wyatt thwacks through the covers for another boundary, her sixth four of the innings.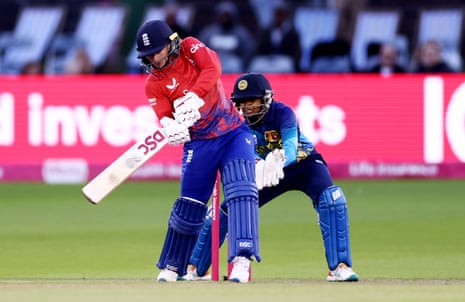 4th over: England 50-0 (Wyatt 32, Bouchier 11) Right-arm quick Kawya Kavindi steps into the attack and… begins with a wide. A full toss is then dispatched by Wyatt to midwicket for another four. A good comeback from Kavindi, though, as she swings and nips the ball away from Wyatt's attempted drive. A bouncer follows before Wyatt cuts over point to move into the thirties. A leg-side wide is up next before the next ball flies even wider down leg, past the keeper and to the boundary. Tough first over this for the 20-year-old, playing just her fifth T20I. Bouchier picks up two to get England to 50 in no time.
3rd over: England 32-0 (Wyatt 23, Bouchier 9) Athapaththu brings herself on to calm things down with some offies and does just that, conceding only four.
2nd over: England 28-0 (Bouchier 6, Wyatt 22) Left-arm spinner Sugandika Kumari takes over from the other end and drags one down – Wyatt punishes it with a pull for a one-bounce four. Kumari then goes short again two balls later; this time, Wyatt sends it all the way for six, easy as you like. Better from Kumari as she fizzes one through, but Wyatt still manages to get out a late cut, the ball travelling for another boundary. Rapid start from Wyatt and England.
1st over: England 12-0 (Wyatt 6, Bouchier 6) Left-arm seamer Udeshika Prabodhani takes the new ball and gets a bit of early swing: Bouchier knocks through midwicket for a single to start. Wyatt gets a full toss and drives through the covers for four – tidy. Three singles follow before Bouchier stretches out to loft the ball down the ground for her first boundary.
Right then, Sri Lanka are out there, as are Danni Wyatt and Maia Bouchier. Let's play!
Some other news from England: Lauren Bell is missing tonight's game and the second T20I because of illness.
Sri Lanka's XI:
Harshitha Samarawickrama, Chamari Athapaththu (c), Nilakshi de Silva, Vishmi Gunaratne, Kavisha Dilhari, Anushka Sanjeewani (wk), Inoka Ranaweera, Sugandika Kumari, Udeshika Prabodhani, Hasini Perera, Kawya Kavindi
England's XI:
Sri Lanka win the toss and choose to bowl first
Chamari Athapaththu puts England into bat. Heather Knight says she would've done the same and confirms that Kate Cross is in for her first T20I since 2019.
Mahika Gaur's been presented with her cap by Kate Cross, a special moment for the 17-year-old quick. Looks like her family are out there too to take it in.
Game on!
Right, maybe this is something to keep us busy for now: anyone fancy picking their England XI for the first game of the 2024 Women's T20 World Cup? Send 'em in.
Some movement of the covers, with an inspection scheduled for 6pm.
Naturally, there's quite a bit of attention on Mahika Gaur. Worth noting that her England debut won't be her international one – she played for the UAE as a 12-year-old (!!!!!). Twelve. Twelve.
Doesn't really relate to Gaur, but this video still comes to mind.
Ugh, hopefully it clears up. Anyway, the pundits – Butcher, Beaumont and Greenway – have been singing the praises of Danni Wyatt, who was England's leading run-scorer in the Ashes T20Is and then had an excellent Hundred too.
She was class in the final:
So Tammy Beaumont's on punditry duties for Sky. She's certainly got a strong case to be in the playing XI today, having had a terrific summer for England in other forms before smashing a historic ton in The Hundred for Welsh Fire.
By the way, the toss has been delayed. Looking rather gloomy at Hove with a bit of light rain in the air.
ICYMI, this series also marks another beginning: England's women will now be paid the same as the men when it comes to match fees.
Hello folks and welcome to the coverage of the opening T20I between England and Sri Lanka at Hove!
It's a new beginning for Heather Knight's side; an Ashes cycle has come to a close and there's a bit of experimentation at play, with the next big thing on the horizon next year's T20 World Cup in Bangladesh. Sophia Dunkley's been given a rest for both the T20Is and ODIs, as was Sophie Ecclestone before she dislocated her shoulder. Nat Sciver-Brunt has also been granted a break from these three T20Is, but she'll be back for the 50-over stuff.
So who are the new kids on the block? Mahika Gaur, just 17, is a tall left-arm quick who has been picked on raw promise, while Bess Heath, the 22-year-old batter for Northern Diamonds, is capable of giving the ball a more than decent whack in the middle order. Both are uncapped; both are in for the two legs of Sri Lanka's visit. With Dunkley away, Maia Bouchier will step up to partner Danni Wyatt at the top of the order in these T20Is, and she's been hitting them well: 268 runs at 38.28 while striking at 135 helped Southern Brave to Hundred glory after their two previous runners-up finishes.
It's not been the most gorgeous day at Hove and the forecast isn't amazing, but let's just hope, eh. Here's to getting a game on, and a good one, too.
I'll be here to take you through to the close. Drop me an email/DM to chat about whatever you fancy!